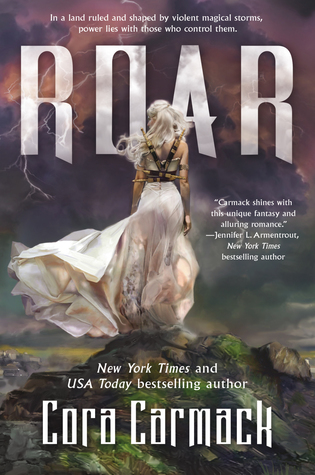 Hey everyone and welcome back to my blog! This week I will be participating in Waiting on Wednesday. WoW is a weekly meme hosted by Jill @ Breaking the Spine. Every week we showcase upcoming releases that we are excited about. Tressa @ Wishful Endings has recently taken lead in this meme, considering Jill hasn't been posting on for a while. Learn more here!
This week I chose Roar by Cora Carmack!
In a land ruled and shaped by violent magical storms, power lies with those who control them.

Aurora Pavan comes from one of the oldest Stormling families in existence. Long ago, the ungifted pledged fealty and service to her family in exchange for safe haven, and a kingdom was carved out from the wildlands and sustained by magic capable of repelling the world's deadliest foes. As the sole heir of Pavan, Aurora's been groomed to be the perfect queen. She's intelligent and brave and honorable. But she's yet to show any trace of the magic she'll need to protect her people.

To keep her secret and save her crown, Aurora's mother arranges for her to marry a dark and brooding Stormling prince from another kingdom. At first, the prince seems like the perfect solution to all her problems. He'll guarantee her spot as the next queen and be the champion her people need to remain safe. But the more secrets Aurora uncovers about him, the more a future with him frightens her. When she dons a disguise and sneaks out of the palace one night to spy on him, she stumbles upon a black market dealing in the very thing she lacks—storm magic. And the people selling it? They're not Stormlings. They're storm hunters.

Legend says that her ancestors first gained their magic by facing a storm and stealing part of its essence. And when a handsome young storm hunter reveals he was born without magic, but possesses it now, Aurora realizes there's a third option for her future besides ruin or marriage.

She might not have magic now, but she can steal it if she's brave enough.

Challenge a tempest. Survive it. And you become its master.
Why I'm Waiting
Guys, this sounds absolutely epic. I am all up for a new fantasy series, and this sounds right up my alley. I love the idea of a "special" girl being not so special. Plus, it seems like there will be plenty of political intruige and forbidden romance, both of which I love. The only thing I'm just a bit worried about is the writing style. Cora Carmack wrote the popular NA novel Losing It. While I had fun reading it, I had some issues with the writing style and how characters were portrayed as so immature. Considering she's written a ton of books in between these two, I

still have high hopes.
Are you looking forward to Roar?
Thanks so much for stopping by and I'll see you soon with another post!
Happy Reading!
Genni @ Ready, Set, Read!